Reactivating the local urban fabric
The site of the project is located in Evere, at the corner of the Chaussée de Haecht, one of the historical radial roadways connecting Brussels to neighbouring towns, and the Pierre Van Obbergen street. Prior to our intervention, it was the open parking lot of a second hand professional vehicles reseller located in a section of the Chaussée de Haecht that lacked urban animation and conviviality.
The project comprises twenty-four apartments and a commercial ground floor. Though limited in scale, its highly visible corner position alongside the radial roadway offered a unique potential to positively impact the surroundings.
The apartments are distributed by a single vertical core and a single entrance. This centralised distribution maximises the activation of the ground floor and its positive impact on the urban atmosphere by providing optimum space and flexibility for the commercial facility.
In keeping with a longstanding urban tradition, the street facing façades receive an elaborate architectural treatment while the garden facing ones remain deliberately simpler. 
Facing the street, a multilayered interplay of grey brick and fibre cement claddings combined with windows, bay windows and balconies brings the façades to life. Lacquered steel railings and sun shading wooden louvres further enhance the composition, superimposing an additional level of detail and warm tones that the eye reads as caring and convivial. 
Though the corner of the site has a chamfered geometry, the built volume does not consist in a simple extrusion of the site's footprint. Instead, a more contemporary composition made from intersecting perpendicular planes marks the angle of the building, characterised by large glazed surfaces that express openness and the reassuring presence of « eyes on the street ».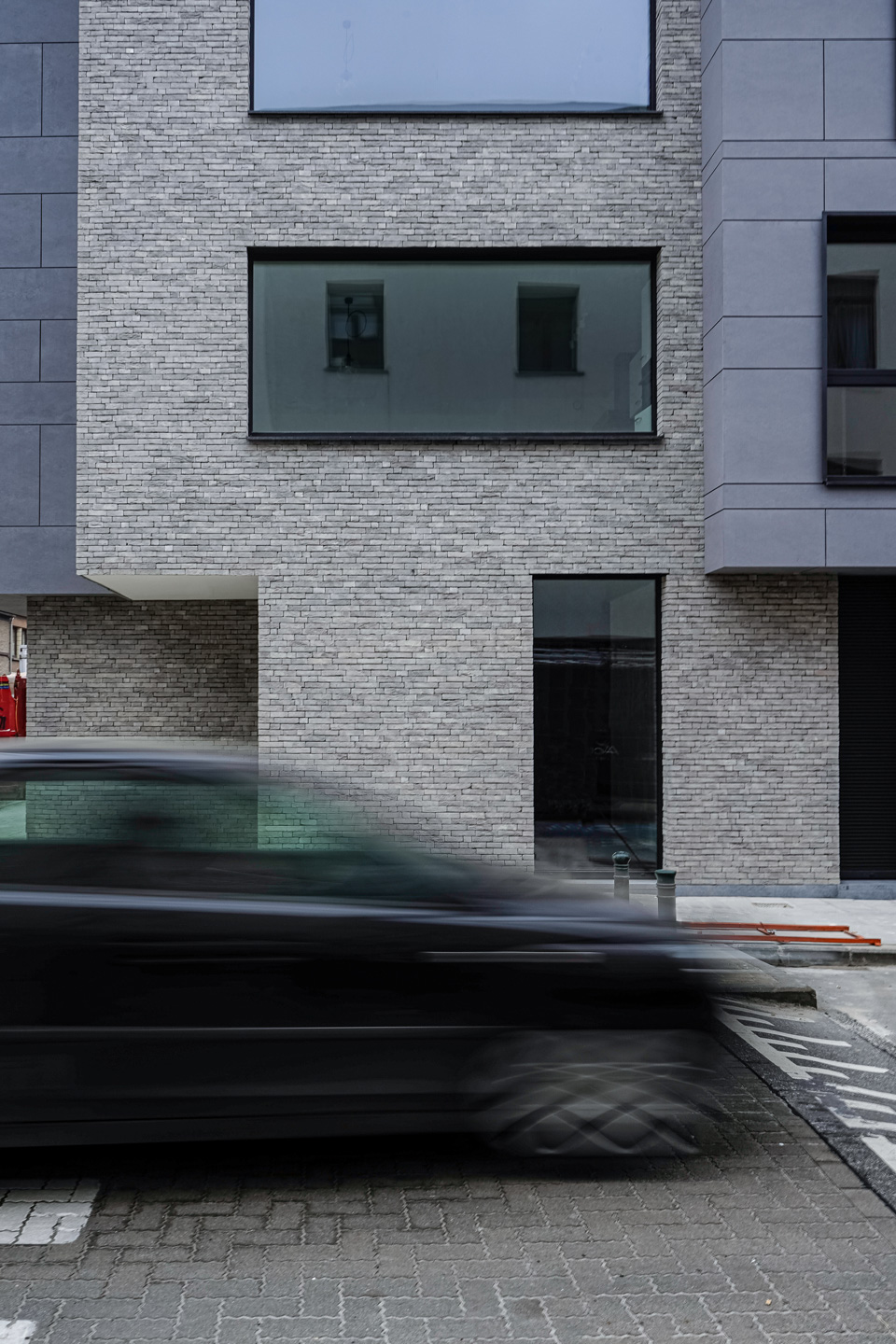 Intimacy and togetherness
Towards the garden, where façades benefit from lesser sun exposure, white cementing maximises luminosity. While the volumetric composition is more simple in the back than it is in the front, protruding balconies provide depth and liveliness around the shared patio. Combining vertical metal poles with 1.40 m high perforated metal screens, the railings optimise both intimacy from other balconies and open views onto the green inner block.
Due to the plot geometry, the shared garden is composed of two intersecting rectangles. The first one, bordered by the apartments, is conceived in the spirit of a peaceful and intimate patio, with patches of green and an ornamental water basin that comes to life with a murmuring fountain. Set further into the block, the second rectangle is laid out with a communal multipurpose area that can serve as a place for rest, for play or for neighbourly gatherings.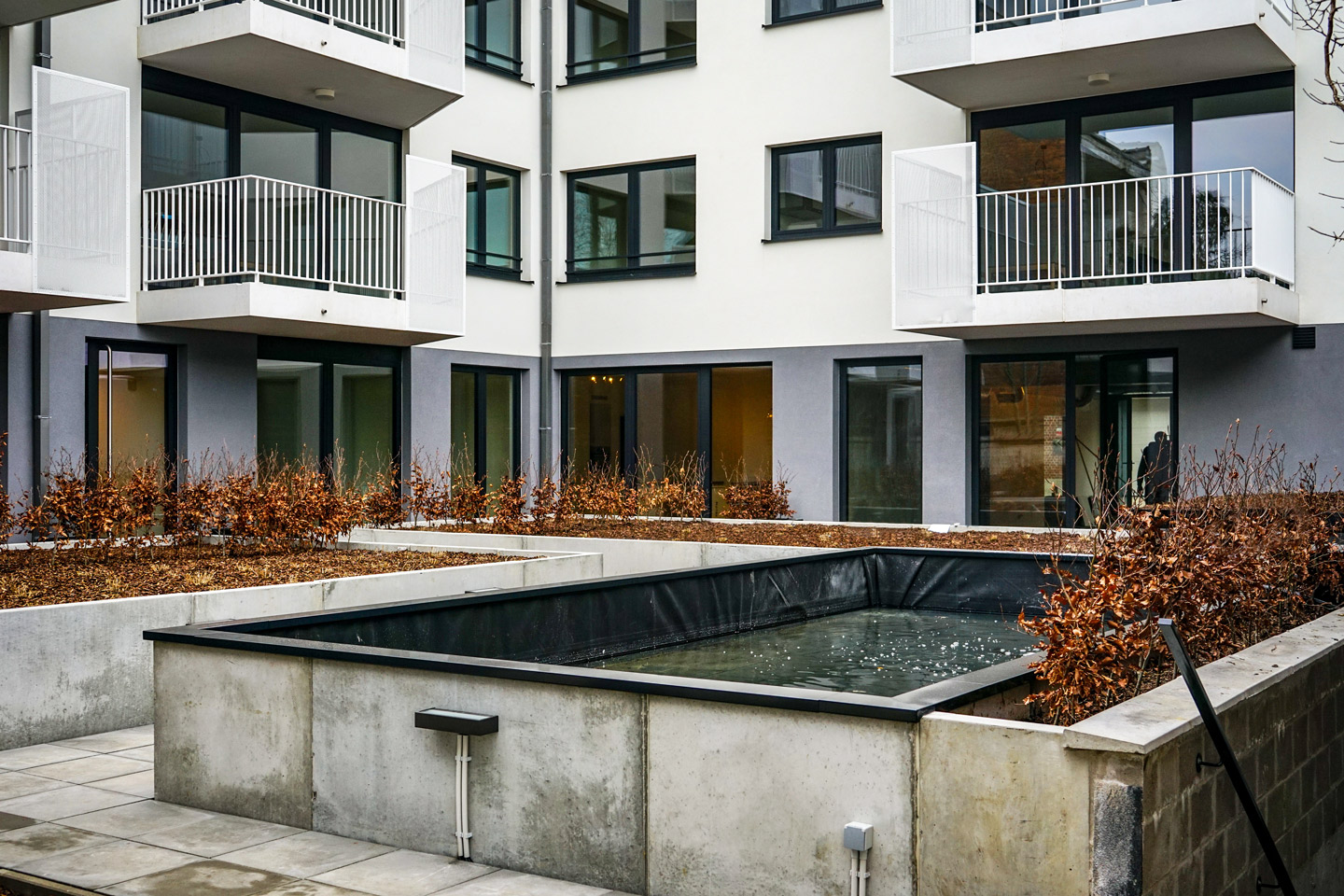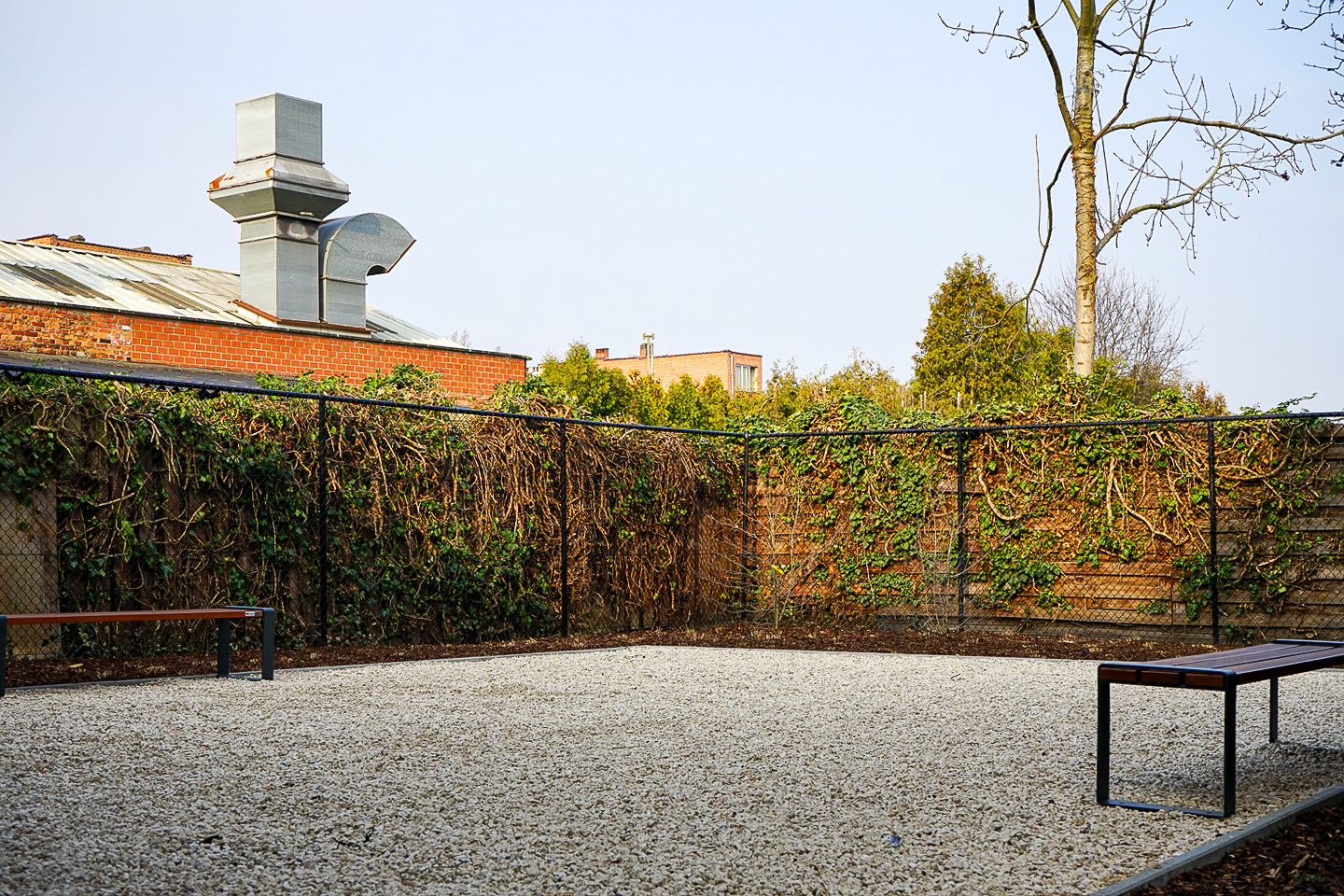 Overall, the project reactivates a previously underused portion of urban fabric with positive contributions to the local street life and a care for conviviality and togetherness amongst its residents.
Type: mixed-use residential and commercial
Status: delivered
Team: Frederico Bruno, Benoît Capel, Gilles Dehareng, Karolina Grudzien, Gaëtan Julemont, Marian Pristavu, Christel Van Poeyer
Client: Antonissen Projectontwikkeling
MEP: Peritas BVBA
Structure: Stabicom
Acoustics:
Energy Performance:
Safety Coordination: Vetraco BVBA
Contractor: Vetraco BVBA
Renderings:
Photography: Ioana Pristavu